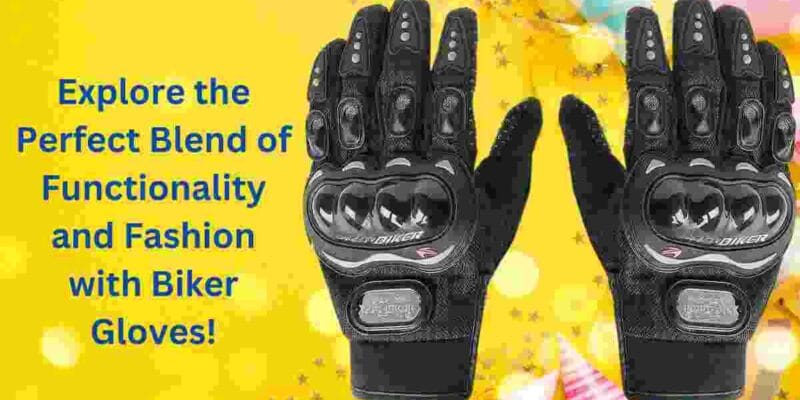 Biker Gloves: Perfect Blend of Functionality and Fashion
Introduction:
When discussing motorcycle equipment, it's sometimes easy to forget about Biker Gloves. Although some people might think they are unimportant, it is far from reality. In the case of an accident, a good set of biker gloves can protect your hands to some extent.
A rough sport is riding a motorcycle. Riders, therefore, had a great demand for high-quality motorcycle gloves. These gloves had been available on the market for a while, but still required a cozy, practical, and stylish combination.
Dominance is a retailer of Pakistan's top leather gloves, cargo trousers, and travel accessories, and they have a large selection of riding, sports, gym, and biker gloves. Their items make your vacations and daily activities more stylish and elegant. You may have a relaxing voyage full of adventures without worrying about your wardrobe or equipment.
Different kinds of biker gloves :
However, you shouldn't just purchase the first set of motorcycle gloves. There are many distinct kinds, and each has a specific purpose. Let's examine the market's most famous riding glove varieties and how to get the most out of them.
1) Street biker gloves:
Street gloves are precisely meant for racing on the streets—and are best suited for commuters and naked bikes. Typically, leather, textiles, or a blend of both are used to create them.
Although they don't provide the most acceptable coverage and won't fit your palms as well as leather, textile gloves are appropriate for most weather situations. Conversely, leather gloves have the potential to be stronger and more heat-resistant. The best of both worlds may  find in a hybrid pair, but only when they are well-made and come from a trustworthy company.
Most street gloves include short cuffs and cushioning for impact protection, regardless of the material they are constructed of. Some could even feature touchscreen-enabled fingertips so you can check your phone or navigation device while you're out and about.
2) Racer biker gloves:
For the highest protection, elite racers often wear gloves made of genuine leather. Race gloves, with their full-gauntlet structure and reinforced knuckle guards, provide improved rider protection and are specifically designed for racetrack use and high-speed racing on sports bikes.
Due to the restricted airflow offered by the heavy leather and armor material, race gloves can quickly become hot, despite their protection. If you're prone to overheating, you can benefit from one of the race gloves perforated for increased ventilation.
Race gloves may cost more than regular riding gloves since they are considered performance-oriented goods. Nevertheless, the degree of safety they provide justifies their greater cost.
3) Dirt biker gloves:
Off-road riding gloves defy the current trend in protection. For dirt motorcycles, you guessed it—dirt gloves are best. These gloves provide little to no impact protection. Why? Dirt gloves are often lightweight textile materials with little armoring because off-road riding is all about the tactile sense. Riders on dirt bikes may react more quickly to changing conditions by having thinner gloves since they can feel more and benefit from even greater ventilation.
These gloves are less expensive because of their thin structure, typical of dirt gloves. However, their more flimsy structure could not hold up in challenging riding circumstances. Don't become too attached if you're wearing dirt gloves. They could require replacement more frequently than other riding gloves.
4) ADV biker gloves:
Adventure, dual-sport, or ADV gloves are frequently constructed of textile material or a mixture of fabric and leather. These gloves are adaptable since they may use on both the road and the path.
Adventure gloves must be lightweight and flexible for off-road use while being sufficiently protective for use on public streets. Depending on how you look at it, including adventure gloves in your regular motorcycle gear might be a sacrifice or a good compromise.
5) Touring biker gloves:
You'll need coordinating touring gloves if you ride a touring bike long distances. This kind uses textiles or a combination of fabric and leather. These gloves' sturdy structure and top-notch protective materials can shield you from a wide range of hazards. Most touring gloves are full-gauntlet styles with reinforced materials for padding and waterproofing.
Best Options of biker gloves:
The most fantastic option for long-distance highway riding would be a pair of premium touring gloves. Depending on the traveling you will be doing, they can keep you safe in the event of an accident and maintain your hands warm and flexible throughout the many kilometers you will be covering.
Primary categories:
Street, racing, dirt, ADV, and touring riding gloves are the five primary categories that have been addressed. You must decide which kind is most appropriate for daily use. You'll probably need several riding gloves for each motorbike model if you own more than one. While only those gloves are available, choosing a cozy pair designed specifically for your bike is preferable. No matter what you decide, be sure you have enough safety wherever you ride.
Advantages:
If you drive your motorbike frequently, you know the gear regulations. To protect your head, you must always wear a helmet, and so on. Because of what you've heard from others, you know that you must always wear gloves, but why is that? They aren't always comfy when it's hot! Here are a few explanations why you should always ride with your motorcycle gloves.
Ø  First Motive: Falls Are Improbable
You can still fall, no matter how much biking experience or how attentive you are. And you'll never be able to predict when it will occur. Anything can happen at any time, such as being cut off in traffic or knocked off your feet by a strong truck wind. You must wear your gloves whether traveling a long distance or simply stopping at a nearby store.
Ø  Second Motive: The Role of the Hands in Riding
Do you have any paper cuts? You are aware of how much that aches and how, as a result, you are careful with your hands. One of the crucial components of good, safe riding is your hands. Wear your gloves to protect your hands from various factors so you can carry on riding comfortably!
Ø  Third Motive: To safeguard your body
You've already slipped and hurt yourself. You probably already perform the instinctual thing of reaching out your hand to save yourself and shield more vital organs from absorbing the force of the fall. The same thing will happen if you have a bike accident. The first thing you will naturally do if you fall off, tumble over, or experience any other trauma is extended a hand to catch yourself. It is a clever approach to safeguard your skull and other valuable body parts. Your hands are your first line of protection if you wish to defend your body. Wear the glove and let them do the labor-intensive tasks!
Ø  Fourth Motive: To avoid hand numbness
You may have noticed your hands become numb after riding your motorcycle for any period. This is risky in addition to being unpleasant. To handle your bike safely, you must have a good hand feeling. A pair of gloves with padding on the hands will not only keep your hands safe in the event of an accident, but they will also shield them from the bike's vibrations and help preserve your sense of touch.
Ø  Fifth Motive: Establish a Firm Grip
Even in the sweltering summer, gloves provide grap as another safety element. Your grasp may slip if your hands are perspiring from the heat. That should not happen while you are driving fast along the highway. Most gloves have silicon hands, which provide a secure grip even when your palms are warm and perspiring. They provide insulation so that riding is less chilly and more pleasant throughout the winter.
Ø  Sixth Motive: Safeguarding Your Fingers
The most sensitive portion of your hands is the fingers. It just took a few seconds for an accident to destroy your fingers. After a significant collapse, not even recovery is guaranteed. Using high-quality leather gloves will help you avoid this scenario. Prevention is always preferable to treatment, as we all know. The same holds for your hands while riding a motorcycle.
Ø  Seventh Motive: Keep Your Hands Out of the Sun
Gloves shield our hands from piercing sunshine and airborne debris. Our hands may become scratchy and dry due to the dust and moisture in the air. Therefore, wearing sturdy clothing is necessary to keeping our hands safe and protected in inclement weather.
Ø  Eighth Motive: Improves Grip
Tight gripping is another benefit that leather gloves offer. They assist you in maintaining a correct hold on the handle throughout the summer when your fingers are sweaty or damp rather than dropping them off the bike. In the winter, gloves provide insulation that keeps you warm and comfortable while riding.
Ø  Ninth Motive: A Chic Look to the Hands
Not only are motorcycle gloves safe, but they also give your hands a fashionable appearance. Some individuals use them to appear stylish and appealing. Some motorcyclists also wear formal attire, such as cargo trousers, leather jackets, helmet gear, and other items that give others a feeling of style.
Ø  Tenth Motive: Choosing the Best Motorcycle Gloves
Now that you know the benefits of possessing a quality pair of genuine leather gloves, it is time to shop at a reputable retailer for the ideal pair. The greatest gloves offer superior defense from the wrist down to the tips of the fingers. Additionally, they provide total vibration absorption, which reduces vibrations even while you're moving quickly.
Different brands of biker gloves:
Here is a list of the top motorcycle gloves to buy from Moto card for summer. Here is a list of the top models if you're trying to decide which summer motorcycle gloves to buy, which are the best-vented gloves for 2022, or which summer motorcycle gloves have the greatest quality-price ratio.
Regarding summer motorcycle gloves, we want a light that enables the air to circulate and doesn't jeopardize our safety. And all of this is included in the five gloves we've selected.
SP X Air Carbon V2 by Alpine stars:
Here are two comparable Alpine stars choices with short sleeves and a sporty flair. The Alpine stars SP X Air Carbon V2 is aesthetically pleasing and features a carbon knuckle protector, more fabric, and, why not say it, more space. Additionally, it costs around 100€, which is an excellent deal for a premium sports glove.
SMX-1 Air V2 by Alpine stars:
The Alpine stars SMX-1 Air V2 gloves are the alternative with the top quality ratio in this category of summer sports gloves. With rugged carbon knuckle protection but with a lot more mesh fabric and leather that is virtually equally distributed. As you can see, they appear to be highly aired at first glance, thanks to mesh fabric and holes: a great deal and a definite buy.
Blackjack DAINESE:
Last but not least, and now for anything altogether different, to quote Monty Python. These summertime gloves with a retro aesthetic are also available. This is a DAINESE Blackjack. There is absolutely no mesh fabric here; everything is made of high-quality leather the old-fashioned way. Additionally, they come with certain modern conveniences like the Velcro clasp, stretch inserts, or cushioning for the back and knuckles. An excellent choice for a more personalized or.
Byrne Astrid:
The Astrid Vented gloves, which have a greatcafé-racer look and quality-price ratio, are another of summer's most delicate motorcycle gloves. They are comprised of a ventilated stretch fabric, leather, and reinforced suede on the palm in this instance. These gloves feature a short cuff, are comfortable, and are exceptionally vented.
Mosca Revit:
These gloves with the oddly named REVIT MOSCA are starting off this list. These gloves include a leather palm and elastic fabric and have an adventurous character—two materials with high abrasion resistance. Large vented panels and elastomeric protection on the knuckles make these gloves incredibly comfortable.
Conclusion:
Since riding a motorcycle is an intense activity, you should wear the best protection possible. Biker gloves are, therefore, one of the critical items you should be aware of. Additionally, you now know of a reliable retailer of travel accessories in Pakistan, so buying your protective gear for a bike trip with friends won't be a problem.