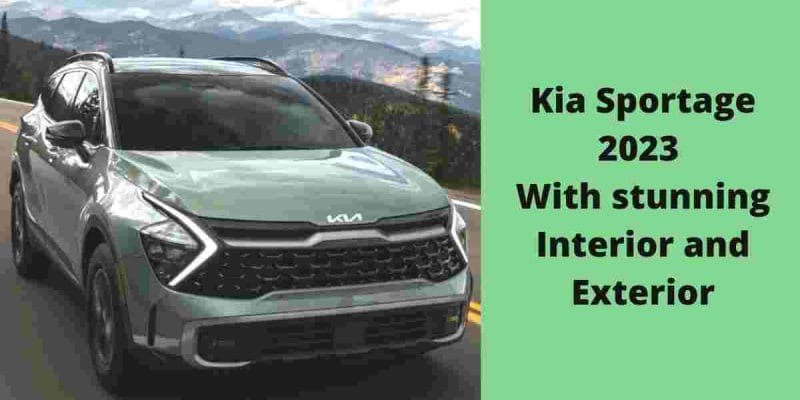 Kia Sportage 2023 With stunning Interior and Exterior
Description:
The 2023 Kia Sportage interior  and exterior aggressive style sets it apart from other SUVs. It is full of technology. It is bigger and more powerful than before.
The energetic style of the 2023 Kia Sportage sets it apart from other convenient SUVs. The general look of the Kia is unusual. It has exotic headlamps and a distinctive grille style. Its aggressive exterior is also more prominent than before. It makes some extra cargo space and a more spacious cabin. This car is elegant and packed with technology. It includes a sizeable dash-mounted display screen. However, the 2023 Kia Sportage shows that it has more to offer than a stunning exterior.
FEATURES:
The KIA Sportage 2023 has many features, and this 2023 model surpassed its earlier model. However, the build quality and final touches prove this is not an average SUV. The exterior of the SUV is solid. And the interior is stylish and attractive with a powerful engine. The following is a quick summary of the car's external and interior elements.
Kia Sportage EXTERIOR:
The Kia Sportage has been to be one of Kia's best-selling models. Kia has improved the exterior appearance of the Sportage in its fifth generation. Kia SUVs have large proportions that suit them. The SUV is marked by a curved bonnet and chevron-style daytime running lights. On higher trims, a dramatic roofline and two-tone paint are also done.
Appearance:
Kia makes the 2023 Sportage stand out. This SUV's look makes it a subtle hybrid or provocative off-roader. Besides its dual character, its interior is classy. The prominent grille and dramatic headlines made this SUV recognizable and dramatic. The Sportage's new design is further enhanced by its:
High stance.
Bigger body.
Roof rails and two-tone roofs.
Windows.
Kia was able to smooth down the sharp edges on the front bumper. But an aggressive look is achieved with a broad grille and unique headlamps. In addition, the use of soft and short striping across the body set this SUV apart from the competition.
Color Range:
The exterior colors for the 2023 Kia Sportage are as follows:
Clear White.
Snow White Pearl.
Steel Gray.
Sparkling Silver.
Black Cherry.
Burnished Copper.
Hyper Red.
Pacific Blue.
Gray, taupe, and sage green are the available seat colors.
Attributes of the SUV:
Kia increased the length of the 2023 Sportage from 7.1 inches to 183.5 inches, and the wheelbase increased by 3.4 inches to 108.5 inches. These characteristics are more significant than the 2021 Toyota RAV4. In LE, XLE, XLE Premium, and Limited grades, the RAV4 have a 105.9-inch wheelbase and a length of 180.9 inches. The 2022 Honda CR-V is almost the same in size. But the front-wheel-drive model has a 104.8-inch wheelbase and a height of 182.1 inches.
LEDs and DRLs:
The dogbone grille and faux intake panels compliment the Sportage's more fantastic external structure. In addition to the big LED lights, the boomerang DRLs stand out. The essential black cladding smoothed out the hood's creases, and these creases extend across the spherical wheel arches. LED taillights run the length of the tailgate. As with other new Kia models, there are a few sparks of flair.
Kia Sportage INTERIOR:
Comfortable cabin:
The Kia Sportage interior is also more refined than the Honda's. Kia Sportage 2023 offers a stylish interior and excellent comfort features, and there is a slight difference in length and width between this SUV and its older models. In addition, both front and back seats have extra space for passengers. As a result, there is a lot of dynamic headroom and legroom for everyone. It can also fold the cozy chairs to make more room for luggage.
The SUV's interior designers arrange many things into the back seats to simplify life. For example, there are hooks for grocery bags on each front seat and a hanger on the back end of the front seat headrests. Functionality has been the focus of this vehicle's design.
Steering wheel:
The correct positioning of the steering wheel is critical for driving. The 2023 Kia Sportage has a tilt and telescopic steering column. It is also adjustable. It will assist in maintaining control over SUV and It also reduces driving fatigue. During the winter, the heated steering wheel keeps your hands warm. In addition, it will help you in saving a secure grip on the steering wheel.
Superior Door Handles are feature of Kia Sportage Interior:
The door handles are far superior to those of any other SUV. These are nice to grip, have a sleek design, and are comfy. In addition, the faux-wood accents aided the handles in complementing the Sportage's interiors.
Front Center Console:
The front center console of the Sportage is instrumental. It has a lot of storage space. It can hold stuff such as smartphones and tablets, and laptops. The console includes a padded armrest to assist you in relaxing while driving. Cup holders are in the front console for all hot and cold drinks.
Tech:
The 2023 Kia Sportage has all the new features we've come to expect from new-era SUVs. There are:
Apple Car Play and Android Auto connectivity.
A wireless phone charger.
Wi-Fi.
USB charging ports.
Heated and ventilated front seats.
More high-tech premium elements.
The 2023 Kia Sportage also includes many safety measures. You can also customize the package by selecting more safety features.
Standard features:
The following are some of the standard features:
Driver-assist system.
Automatic high beams.
Automated emergency braking.
Active line control.
Parking sensors.
The innermost of the 2023 Kia Sportage is attractive. The interior of  Kia Sportage is a classy and modern design. The air vents are angled. It gives the SUV a sleek, high-tech appearance; a large touchscreen on the dash and interactive elements are present. There are many entertainment features in the Sportage. Sportage is simple to drive and provides a fantastic and comfortable ride.
Display screens:
Kia's full-dash gauge cluster and display screens are functional and stunning. A digital gauge display and an 8.0-inch touchscreen are standard. But it also comes with a 12.3-inch display that offers clearer visuals and more connections. There are two 12.3-inch displays alongside the gauge cluster on the top trims of the Kia Sportage 2023. What's impressive about it is the glare-reducing covering Kia applied to the screens. As a result, it is an uncovered touchscreen that does not need any covering or sun guard. As a result, the screens stayed viewable even in direct sunshine. It is impressive, and there are many SUVs out there that still don't do it.
A dynamic touchscreen bar is present below the large display. Under the touchscreen interface, touch-sensitive buttons control the climate and stereo. This switches between HVAC and media controls. You might consider it hard to deal with while driving. But with time, you will become used to the configuration.
Climate control:
Kia Sportage 2023 comes with individual temperature controls. The driver and pillion rider can set different temperatures for each zone, and Sportage's auto defog eliminates moisture from the front door glass and windshield. It prevents window fogging. The inbuilt ionizer (This purifies the air) keeps the interior fresh.
Cargo space:
The vehicle's interior has plenty of space for people and their belongings. Cargo space is an important aspect when purchasing an SUV. The Sportage is spacious enough to assume a midsize SUV. With 39.6 cubic feet of room behind the second-row seating, Kia's SUV indicates it's pushing midsize. Kia Sportage surpasses the Toyota RAV4 in cargo space. You can fold down seating. By folding, you'll have 74.1 cubic feet of cargo capacity. A family can store their belongings in that space without problem, whether going to the airport or camping. The cargo floor is dual-level, which increases its versatility.
Engine, Transmission, and Performance:
The Sportage's standard engine is a 187-hp 2.5-liter four-cylinder. With this, you'll get an automatic gearbox with eight speeds. The hybrid model has a four-cylinder turbocharged engine with one electric motor. As a result, this produces 226 horses. All-wheel drive or front-wheel drive is available with both powertrains. An all-wheel-drive plug-in hybrid is also an option. This hybrid uses the same gas engine as the standard one. A larger battery pack and a more powerful motor make it more powerful. It's sufficient for everyday driving. But on the interstate, it seems cramped and underperforming. It also whines at higher RPMs.
The power and low-end thrust from the hybrid electric motor make it more precise. The Sportage sits on a new chassis with a longer wheelbase. It improves ride quality. Adding rugged-looking upgrades like the X-Line lends the tiny ute an off-road feel. But the X-Pro has many tools to help you get through the tough stuff. It has many drive modes and rides on black 17-inch rims with all-terrain tires.
Fuel Economy:
The Sportage's front-wheel-drive 2.5-liter 4-cylinder achieves 25 mpg in the city. On the highway, it is 32 mpg. There is a 23 mpg city rating and a 28 mpg highway rating for all-wheel drive vehicles. EPA ratings for the hybrid are 42 mpg in the city and 44 mpg on the highway. The EPA has not classified a plug-in hybrid as a fuel-efficient vehicle.
Trims:
The ride quality on the road is excellent. Pro X models, even knobby tires, have a smooth and very little road noise. There is 178 pound-feet of torque in the standard Sportage. It is not dull, but its driving experience isn't as enjoyable as the Honda CR-V or Toyota RAV4. Nevertheless, you should buy this SUV if you want an unforgettable driving experience. It is more practical and pleasant at higher speeds, and Kia Sportage 2023 is available in a range of trim levels. You can choose from 7 different variants based on driving style and preferences. A variety of costs and features distinguish each of them.
Costs:
It costs $27,245 for the LX with the gasoline engine and $29,245 for the EX with the gas engine. A standard SX can cost as much as $32,745, while the SX Prestige can cost as much as $34,745. Any above models can be equipped with an all-wheel drive for an extra $1,800. The all-wheel purpose is available only on the following three levels. There is an X-Line for $32,045 and an X-Pro for $36,245. With an MSRP of $38,045, the X-Pro Prestige is at the top of the lineup.
Levels:
Hybrids come in three trim levels. Front-wheel drive gas-electric LX models start at $28,345; the all-wheel drive option is $1,800 more. All-wheel drive is available only on the EX and SX-Prestige trims, which cost $32,245 and $37,445. A plug-in hybrid comes in two trim levels, further narrowing your options. As well to the X-Line, there is an X-Line Prestige model. A price for the plug-in hybrid has not yet been announced.
Warranty:
Kia has one of the most outstanding warranty policies available. It comprises the most extended engine guarantee. But it misses complementary services. Toyota and Hyundai provide these services.
The plan is:
The security is up to five years or 60,000 miles.
The powertrain warranty is valid for ten years or 100,000 miles.
There is no free planned maintenance.
CONCLUSION:
Kia has enhanced the Sportage's design in its 5th gen. The exterior and aggressive interior design of the Kia SUV sets it apart from other SUVs. The method of this SUV makes it a discreet hybrid or a daring off-roader. The inside is elegant and appealing, and the engine is powerful. This Kia Sportage interior is likewise superior to that of the Honda. Sportage's interior is sleek and contemporary. Engine performance is inferior to that of Honda and Toyota. But it is adequate for daily use. There are many trims to choose from. The fuel consumption is also satisfactory.